---
Zone Description
Zone 1:
Entrance areas outside
Shops, hotels, shopping malls, residential buildings, office buildings


Also outdoors or exposed to the weather


Depending on the mat quality, the mats can be cleaned with washing machines (laundry service) or with a high-pressure cleaner if they are dirty.
Weather-protected business entrances, apartment doors, office doors, staircases, elevators, reception areas


Cleaning options with a washing machine or laundry can be fulfilled here as well as a good price-performance ratio. In addition, there are more versatile possibilities for print design.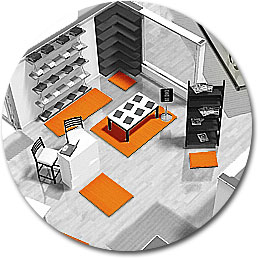 Zone 3:
Indoors, office, POS, showroom
Apartment doors, office doors, checkout areas, in front of the desk, as advertising support at the point of sale, in front of sales shelves, in front of promotional displays, as in-store equipment, as a customer gift (give-away), message mats


The dirt trap function is increasingly taking a back seat here, but is still guaranteed. The main function of the mats is the transmission of an advertising message supported by the versatile possibilities of digital printing.
Zone 4:
Events, exhibition, promotion stand
Carpet runners for events, red carpets with logo print, carpets for exhibition with logo print, carpets for promotion stands/road shows


Flexible and individually printed carpets, in various quality versions for short to medium-term use, beautiful textile surface supports the possibilities for digital printing, the carpets can be easily rolled and transported.